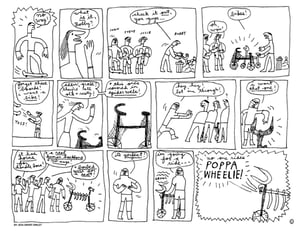 $

5.00
The Chain Gang is a serialized 1,000 page ULTRA COMIC about a group of unwanted and forgotten bicycles that band together to wreak havoc on the world, one neighborhood at a time!
The Chain Gang comes out in monthly 24-page black and white issues and will be available for single issue purchases, as well as 6 month and 1 year subscriptions.
Become a member of the Chain Gang to get each and every issue as they come out, as well as cool members-only goodies like tattoos, buttons and original artwork!